Milwaukee Radon Testing and Mitigation
Radon Testing is the Only Way to Know if Your Home is at Risk of Rn Gas
According to the EPA, every county in Wisconsin is at moderate to high risk of household radon exposure. It's impossible to know if your home is at risk without radon testing, because radon is colorless and odorless and creates no symptoms until it's already too late. You might think you're not at risk because your neighbor had a radon test done and there was nothing to be concerned about. Wrong! Radon levels can vary drastically even in houses that are right next to each other.
Getting your home, school or business tested for radon is the first step to ensuring a healthy and safe environment. Radon testing is a simple process, and our Milwaukee radon testing and mitigation technicians perform in-home tests with little to no disruption to your daily life.
Radon Testing Instruments Meet EPA Specifications
Lifetime Radon Solutions uses the industry-leading Sun Nuclear continuous radon monitor. This radon testing device is verified by the EPA for accuracy and approved for radon testing in real estate transactions. It is widely considered to provide a more accurate picture of radon levels than the charcoal canister test kits you may have heard about. Additionally, we have our Sun Nuclear monitors calibrated on an annual basis to ensure their accuracy.
Radon Testing is Fast and Easy
When you schedule a test from Lifetime Radon Solutions, one of our radon testing and mitigation technicians comes to your home and identifies the lowest living area in your house. For most homes in Wisconsin, this is the basement. Radon enters your home through cracks and openings in your basement floor or crawl spaces, pulled in by the negative air pressure effect of your home.
Our technician will set up the Sun Nuclear radon monitor at the lowest living area of your home, and configure it for 48 hours of continual monitoring. During the two days your home is being tested, you will need to avoid opening any windows and, ideally, should not run your air conditioning system. Normal opening and closing of your entrance door is okay, but you should not leave it propped open for any reason.
After two days, the technician returns and collects the tester, then we begin the process of analyzing the results.


Surgeon General Health Advisory:
"Indoor radon is the second-leading cause of lung cancer in the United States and breathing it over prolonged periods can present a significant health risk to families all over the country. It's important to know that this threat is completely preventable. Radon can be detected with a simple test and fixed through well-established venting techniques." -- January 2005
Lifetime Radon Solutions Provides an Easy-to-Read Test Report
The Sun Nuclear continuous testing monitor is designed to correlate dates and time to its test readings. As soon as we analyze the findings, we'll e-mail you an easy-to-read hourly chart of the tester's readings our inspection report, along with a summary of the findings and our recommendations for the next step.
Radon levels will fluctuate depending on a number of factors. Our radon testing equipment makes note of weather and seasonal factors which could affect the readings. If your average radon reading is at or near the EPA action level of 4 picocuries per Liter (4.0 pCi/L), we work with you to begin the radon mitigation process.
Preparing For A Radon Test
In order to ensure an accurate test of the radon level in your home, you'll need to adhere to the conditions outlined below for a full 12 hours before the test begins, as well as during the test:
Entry doors should be kept closed, with the exception of normal entry and exit
Windows should all be kept closed.
Any fans that exhaust air outside or bring outside air into the house should be left off. This includes high-volume attic fans, whole house fans, and window fans. There are some exceptions, however: air conditioning systems that recycle indoor air, air-to air heat exchangers, and furnaces.
Any ceiling fan, dehumidifier or air cleaner within 20 feet of the monitor should not be used prior to or during the test period.
Unless a fireplace is a primary heat source, it should not be used during the test period and the flu damper should be closed,.
Clothes dryers, oven range hoods and bathroom exhaust fans can be used in moderation.
If a radon mitigation system is already installed at the house, it should be running for at least 24 hours before the test and continuously during the testing period.
If a home is vacant, the heating or air conditioning system should be set between 67-77 degrees fahrenheit with the fan in AUTO mode.
Radon Testing for Real Estate Transactions
Realtors, homeowners and potential buyers all turn to Lifetime Radon Solutions when they need radon levels tested for real estate transactions. While radon testing is not required by law in Wisconsin, demonstrating your home is within EPA guidelines is an attractive selling point. It gives a potential buyer the peace of mind they won't discover a major radon problem in the future.
As awareness of radon increases, we've been seeing more real estate transactions which include radon testing as a contingency in the purchase agreement. If you are looking to buy or sell a home in southeast Wisconsin, we can help with both testing and mitigation.
We're licensed with the National Environmental Health Association (NEHA) and certified through the AARST National Radon Proficiency Program. Call Lifetime Radon Solutions to find out why Milwaukee-area realtors and home inspectors have us on speed dial.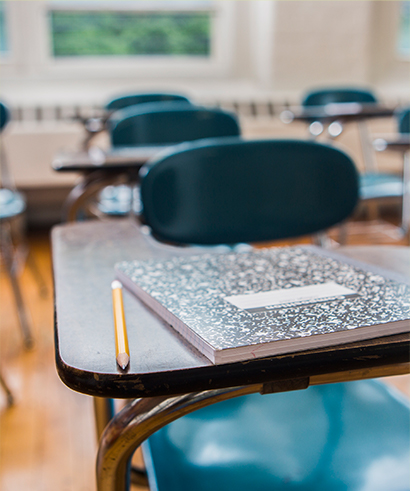 Radon Testing for Wisconsin Schools
State law in Wisconsin requires most students spend at least 1000 or more hours in school every year, not including after-school and extracurricular activities. A study conducted by the EPA discovered at least one in every five schools across the country had at least one classroom exceeding 4.0 pCi/L in radon exposure. Students using more than 70,000 classrooms nationwide have been exposed to dangerous radiation from radon, and most schools don't even know when they have a problem.
Lifetime Radon Solutions has the tools and experience to keep your students safe. We've tested schools in districts across southeastern Wisconsin, and our radon mitigation technicians can design and install radon venting solutions designed to accommodate any school.
You expect your children to be safe and cared for while they're at school. Make sure your school district stays up-to-date with radon tests and mitigation.
Wisconsin Radon Testing Service Provider
Getting your home tested for radon is the only way to know for sure if you have elevated Rn gas levels in your home. While no level of radon is considered safe, the Wisconsin Department of Health Services estimates approximately 60% of homes in Waukesha, Washington and Dodge counties are at risk of dangerous radon levels of 4.0 pCi/L or more.
Lifetime Radon Solutions is Milwaukee's trusted radon testing and mitigation resource, providing the service and expertise needed to safely and affordably reduce your family's risk of lung cancer due to radon exposure.
Get to Know Your Radon Level Results
Did you know that radon levels will keep changing depending on the season? Comparing your test results will help you understand what actions you could take next. We know how dangerous radon gas exposure can be, so we are here to guide you through the process.
Contact us Today!
Whether it be property inspection, radon water testing, home warranty, home inspection services, or follow-up, we are here to guide and help you with radon threat that is going unnoticed. We care about you and your family's health. Knowing your radon level will save you a lot of health issues. Check out our website to learn more about our services, and don't hesitate to contact us today!