Waukesha Radon Mitigation System Installation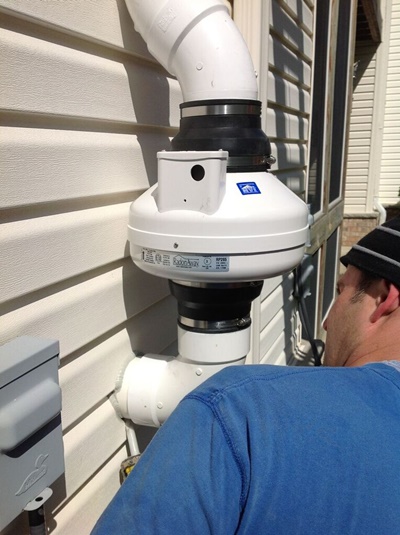 Waukesha Radon Mitigation System Installation
You're looking at the exhaust fan of a radon mitigation system being caulked at the point where it exits the house. We typically route the PVC piping of a radon mitigation system in the most unobtrusive location possible. Here, you can see it's near an electrical box (the grey thing to the left) and, although you can't see it, the AC unit is just below that grey box.
The exhaust fan inside this enclosure is extremely quiet and requires very little energy. It is there to ensure the radon gases from underneath your home are pulled up and out into the air above the roofline of your home. Although they can be mounted in an attic or under the eaves of a roof, we recommend placement at an easily accessible height just in case it ever needs servicing.
Lifetime Radon Solutions installs radon mitigation systems throughout the greater Milwaukee area. Our radon abatement systems have been shown to dramatically reduce radon levels in homes of all sorts and sizes. If your home has been tested and has radon levels higher than 4 pCi/L, the EPA recommends taking action to reduce radon levels. In most cases, our mitigation systems can bring radon levels down to around 1.8 pCi/L or less.
If you haven't had your home tested for radon, contact us today to arrange a radon test.