Sussex Radon Mitigation System Installation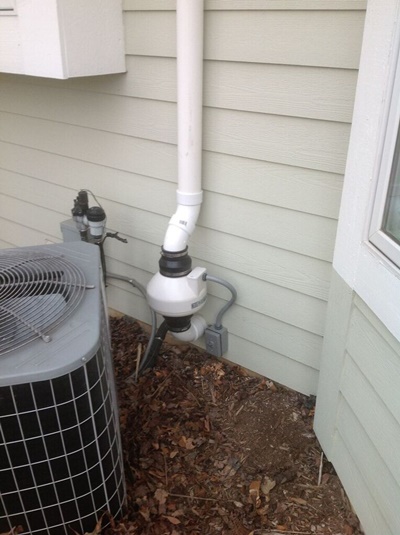 Sussex Radon Mitigation System Installation
What you see here is about as ideal an installation as possible. The PVC vent pipe exits the home near an electrical box we installed, enabling a quick connection from the exhaust fan to a power source. Since the fan housing is positioned behind the air conditioning unit, it's well camouflaged.
While it's not always possible to have the fan housing so discreetly placed, we always look for the most unobtrusive spots for the PVC vent piping to exit your house—which is typically on a side of a house or in back. In this particular installation on the back of a house, you'll notice there is a window to the right of the fan housing. The homeowner was a little concerned about noise from the fan, but found it to be nothing compared to the sound of the air conditioning unit. Even with the window open, the fan inside the PVC housing emits little more than a quiet whirring sound.
If you haven't had your home tested for radon, now's the time. Waukesha County is known to have some of the highest radon levels in the state. With radon gas ranking as the number 2 cause of lung cancer, second only to cigarette smoking, it only makes sense to have your home tested. If the results show high radon levels, Lifetime Radon Solutions will then explain your options for mitigation.
Contact Lifetime Radon Solutions today for details on pricing and scheduling a radon test at your home.