Pewaukee Radon Mitigation System Installation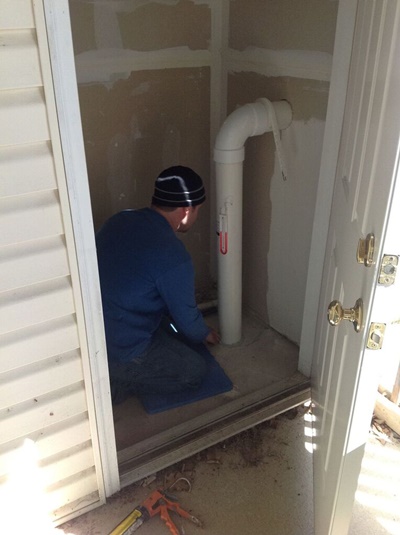 Pewaukee Radon Mitigation System Installation
Here you see one of our installers caulking in a PVC vent pipe at a Pewaukee home. This installation is a little different, in that we were able to route the piping up through a storage shed area connected to the house. The exhaust fan sits on the other side of the storage shed wall.
Like most areas of Waukesha County, there are areas of Pewaukee where the homes have alarmingly high radon levels. This home, which was built just a year or so ago, is the perfect example of how even new homes built with all the best materials can still have high radon levels. Even if the home next door to yours is tested for radon and shows a very low level, it doesn't mean your home will have similarly low radon levels. The only way to know for sure is to have your home tested.
Many homeowners think a radon test is something they can put off. Unfortunately, it often gets put off for years. If you have young children who spend time playing in the lower levels of your house, a radon test definitely isn't something to put off for a few years down the road.
Lifetime Radon Solutions makes it easy to get your home tested. We come in, set up two electronic monitoring devices in your basement, then leave. After 48 hours, we come back to get the test units. Then we get the results to you as quickly as possible. If your radon levels are above the recommended action level of 4 pCi/L, we'll explain your options.
Don't put it off. "Tomorrow" becomes "next year" faster than you know.
Contact Lifetime Radon Solutions today to schedule a radon test or radon mitigation at your home.