Kenosha Radon Mitigation Installation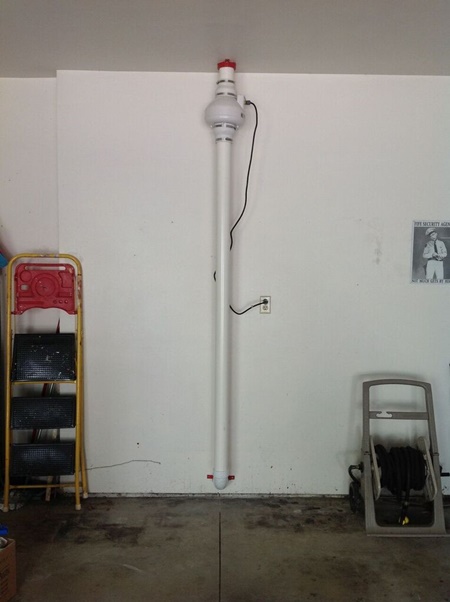 Radon Exhaust Venting Run Along Interior Garage Wall
What you're looking at in this photo is the exhaust venting for a residential radon mitigation system. In this home, we ran the pipe out through a wall in the garage and then up through the attic to an exhaust vent on the roof over the garage.
Having the fan (inside the bulbous part near the top of the exhaust vent) accessible from the garage provides easy access in the event there is ever a problem with it (highly unlikely). An added benefit is that the homeowner can easily tell the fan is working due to the quiet whir it emits. While some people prefer to have the fan unit mounted in their attic or on the outside of the house, where there is no chance they will ever hear it, these homeowners didn't have any problem with the barely noticeable whirring sound and there was no need to install a remote monitoring system to keep tabs on the fan.
As you can see in this photo, there's an electrical cord running from the fan housing to an outlet on the wall. Fans require electricity, so wherever the venting pipe and fan are placed, there has to be an outlet nearby to power the fan.