Mequon Radon Testing and Mitigation System Installation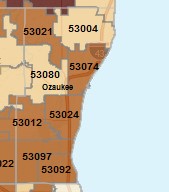 Mequon is a city of some 24,000 located in the southeast corner of Ozaukee County. Over the years, Mequon has been praised by both national media and local residents as one of the best small cities in the United States. Like many other cities throughout Wisconsin, though, homes in the Mequon area tend to have radon levels higher than the national average.
The map to the right shows much of Mequon is in the brown zone, which indicates 42 to 58% of homes tested for radon had levels greater than 4 pCi/L, the level at which the EPA recommends taking action to mitigate.
Should You Be Concerned About Radon Levels If You Own A House In Mequon?
In our opinion, yes. And we're not saying this just because we provide radon testing and radon mitigation systems. There have been numerous studies linking radon exposure with lung cancer. Today, radon is considered the second leading cause of lung cancer—second only to smoking.
Unlike the smoke from cigarettes, you can't see or smell radon gas. It comes into your home through your basement, the product of decaying uranium ore in the soil. With long-term exposure, the risk of harm increases greatly. Should you be concerned? Absolutely.
The Only Way To Know If Radon Levels Are Dangerously High Is With A Radon Test
Many homeowners wonder how much radon gas they're being exposed to in their home, but then fail to follow through and have a radon test done. It's just one of those things that is easy to keep putting off, probably because there is no imminent threat. But having a radon test done really isn't a big imposition. It involves having one a radon testing technician place a radon measuring device in your basement, then coming back in 48 hours to retrieve the machine and give you the results of the test.
During the 48 hour test period, you will be asked to keep your house as sealed up as possible. Normal entry and exit is fine, but windows should be kept closed and no exhaust fans should be run. The whole idea is to get a picture of how much radon there is in the home when there is no effort made to exhaust the air in the home—a condition similar to how we live in the winter months, and even during the hottest summer months.
Many homeowners in Mequon think that because a neighbor had a radon test done and the level wasn't anything to be alarmed about, there is no reason to worry about radon levels in their home. Unfortunately, it doesn't work this way. Radon levels can vary dramatically even in houses right next door to each other.
What If Your Mequon Home Tests High For Radon?
If a radon test shows your home to have high radon levels, which is anything greater than 4 pCi/ (the EPAs recommended take action level), it's highly advisable to have a radon mitigation system installed. Radon mitigation systems make use of the hole in your basement floor where the sump pump is installed. Gases underneath your basement are sucked up and out of your house through a PVC exhaust vent, dramatically reducing radon levels in your home. It is not at all uncommon for homes with radon levels of 15 or 20 to test at .3 after installation of a radon mitigation system.
If you do not have a sump pump in your basement, or its location makes it impossible to use, we can drill through the concrete in another part of your basement to install the PVC exhaust pipe. To get a better idea of what is involved, you can view photos of our installation work in the Mitigation System Photo Gallery.
How Accurate Are Radon Tests?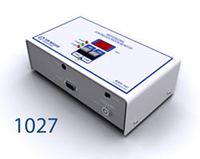 The test devices we use are Sun Nuclear continuous monitoring test units. Sun Nuclear is a highly regarded manufacturer of dosimeters—devices that measure radiation exposure in patients and medical personal. Their radon measurement devices are extremely accurate, and as a condition of our licensing, they are sent back to the manufacturer every year for recalibration. You really cannot find a more accurate radon testing device.
Despite having some of the best testing equipment available, changes in barometric pressure can throw off a radon test. Thunderstorms and periods of heavy rain tend to skew a radon test higher, and for this reason we avoid setting up a radon test for a time during which heavy storms or rain are anticipated. It's not just rain, either. Snow storms will cause a spike in radon levels, too.
Although it is more accurate to test a home for radon over the course of a year, it is also highly impractical. The information we get from a 48-hour test is more than sufficient to let us know if radon levels are a concern. If the home tests high, we usually set up another 48-hour test to verify the results. If the results of that test are also high, then it is time to seriously consider having a radon mitigation system installed.
Radon Testing and Mitigation for Real Estate Transactions in Mequon
As a member of the Wisconsin Association of Home Inspectors, Lifetime Radon Solutions is authorized to perform radon tests for real estate sales. If you are selling a home in Mequon, or anywhere else in the greater Milwaukee area, we highly recommend you have a radon test performed before listing the house.
Radon testing has increasingly become a standard contingency in real estate offers to purchase, and anyone planning to sell is better off having a test done before listing the house. If the results are high, you have time to get a mitigation system installed so the sale won't be torpedoed.