Brookfield Radon Testing and Mitigation Services
Brookfield, Wisconsin is a city of about 38,000 located 13 miles west of downtown Milwaukee. Like most of Waukesha County, homes in the Brookfield area have been shown to have higher than average radon levels. According to the EPA, Brookfield and the entire 53005 zip code have a Radon Zone rating of 1, which predicts homes to have indoor radon levels above 4 pCi/L—the level at which the EPA recommends radon mitigation.
How Does Radon Get Into Homes?
Radon is a colorless and odorless gas emitted by degrading uranium in the soil. It enters homes through small gaps and holes in the foundation. Radon levels fluctuate throughout the year and with changes in the weather and atmospheric pressure. Periods of heavy rain, for instance, tend to cause elevated radon levels.
You might think the easy fix is to simply patch any cracks in the basement and put down some sort of sealant on the floor. You'd be wrong. Radon gas can actually travel through a concrete foundation, so an epoxy coating on the floor isn't going to keep it out.
Radon Mitigation Systems The Only Effective Way To Get Radon Out Of Your Home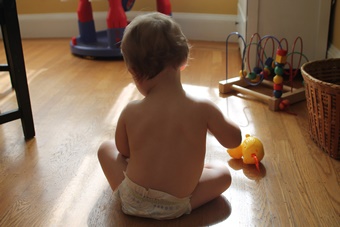 In 2010 the EPA conducted studies which showed the average indoor radon level for homes in the United States to be 1.3 picocuries per liter (pCi/L). Unfortunately, most Waukesha County homes have considerably higher radon levels.
The only thing proven to work is a radon mitigation system, which exhausts gases from the soil through a PVC pipe that runs from inside the sump pump to the roof of the house. This is what is known as a sub-slab depressurization system.
Sub-slab depressurization systems create a strong enough vacuum to pull out the soil gases. To ensure the gases exit the house, most mitigation systems also include an exhaust fan positioned near the end of the venting pipe.
Installing a mitigation system that uses an existing sump pump opening in your basement floor is the only proven effective method for exhausting radon gases. Don't worry, if your home doesn't already have a sump pump opening (a rarity in Wisconsin), we can install one.
In most cases, we route the PVC exhaust tubing to the exterior of your home, but in some instances (especially new construction), we can route it through the inside of a wall and up through the attic. The entire installation usually takes half a day. If the home needs a sump pump, that will have to be installed first, of course.
Radon Testing Recommended For All Brookfield Homes
Because Brookfield is in an area identified as a high-risk zone for elevated radon levels, anyone even slightly concerned about radon in their home should have a radon test. While you can find the charcoal canister radon test kits at most hardware stores for around $10, the equipment used by professional radon testing companies are generally considered more accurate. Our EPA verified Sun Nuclear Continuous Monitoring test units, for instance, measure radon levels at regular intervals over a 48 hour period and provide a detailed printout of test results. Their accuracy is so exceptional, they are approved by the National Radon Safety Board for use in real estate transaction testing.
Schedule Your Brookfield Radon Test Today
If you own a home in the Brookfield area and you've read this far, you're probably wondering just how bad the radon levels in your home are. Well, finding out is easy. Just give us a call and schedule a radon test.
There's nothing intrusive about having a radon test done. Our licensed radon testing professionals will determine the best location to place our test equipment, set it up, then leave. In in 48 hours we'll come back to get our radon testing units. We'll then download the test results and email them to you that afternoon. If your home shows dangerously high radon levels, we'll discuss your options for a radon mitigation system.