Milwaukee Radon Air Test
Radon Testing for Milwaukee Homes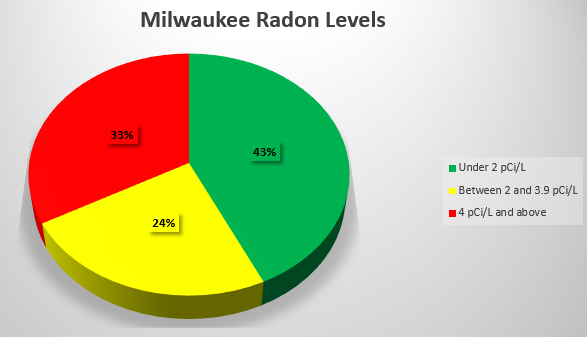 If you live in Milwaukee, a radon air test is a sure way you can keep your family healthy. Every region in Wisconsin has homes with elevated levels of radon. Radon is an invisible radioactive gas. The problem is you can't see it or smell it or taste it. According to the Surgeon General and the EPA radon is the second leading cause of lung cancer in the United States. The number one cause of lung cancer is smoking. Lung cancer caused by radon is estimated to costed the United States over $2 billion annually for both indirect and direct health care costs.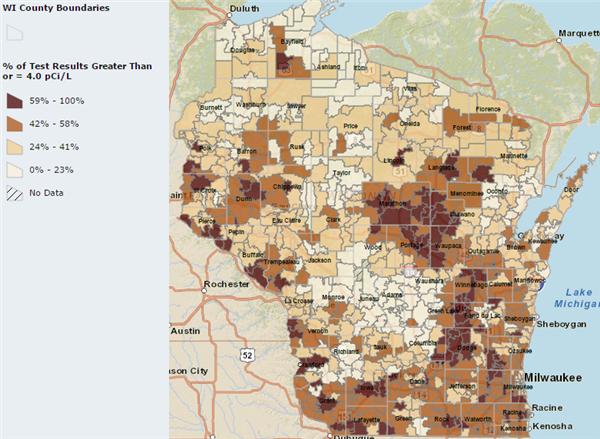 If you live in Milwaukee you should be concerned and get a radon air test in your home. Getting lung cancer from radon gas develops over years, so you may not have any symptoms of lung cancer now, but there are some things you should look out for. Your lungs are the way oxygen is delivered to your body, so any impairment in function will cause other health symptoms. Feeling more fatigued than normal? Not waking up with a lot of energy? Could potentially be the affects of long term radon exposure. 33% of homes in Milwaukee have radon levels above 4 pCi/L which is the danger zone. And 24% of homes are in the caution zone, between 2 and 3.9 pCi/L. Waukesha County's radon levels are a little higher, but Milwaukee is right up there. The average level is Milwaukee is 3.6 pCi/L which right on the cusp of danger levels. Some homes are below the average and some are above the average.
As the maps shows, many communities within Milwaukee have areas where 24% to 41% of the homes have radon levels above 4.0 pCi/L. Anything above 4.0 pCi/L is considered unsafe according to the EPA guidelines. Communities with a high percentage (24% to 41%) of homes have dangerous levels of radon include:
Glendale
West Allis
Greendale
Cudahy
St Francis
Brown Deer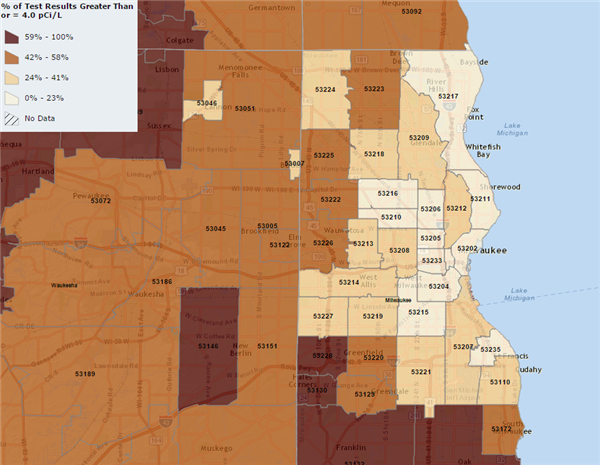 Some areas just outside of Milwaukee County where 42% to 58% of homes have above acceptable levels of radon include:
Elm Grove
Brookfield
Menomonee Falls
Mequon
Pewaukee
Waukesha
New Berlin
Greenfield
Greendale
South Milwaukee
Germantown
Caledonia
Franksville
Areas where 59% to 100% of homes have radon gas results above 4.0 pCi/L include:
New Berlin
Hales Corners
Colgate
Hartland
Franklin
Oak Creek
Chenequa
Delafield
Mount Pleasant
Racine
Kanasville
You shouldn't take a chance as years down the road you will regret it. Getting lung cancer is a terrible consequence and is very deadly. Living off of an oxygen tank due to impaired breathing is no way to live a vibrant life. All it takes is a simple phone call and our radon testing company will come out and test the levels in your home.
If you have high levels, our Milwaukee radon mitigation installers will setup a time for your abatement system. Normally we are able to work with your existing sump pump to install your radon removal system. If your sump pump system is in need of repair, our technicians normally have most equipment and parts to fix it right on the spot so no extra service call is needed.