High Radon Levels in Waukesha County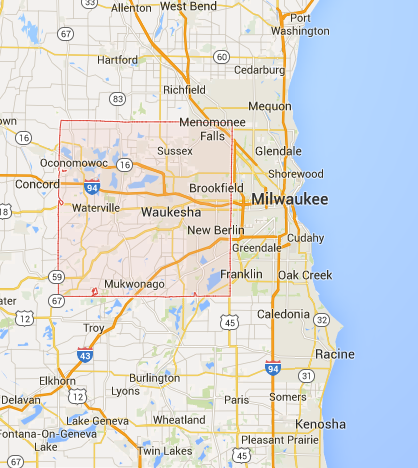 Waukesha County is one of the largest counties in Southeastern Wisconsin just west with a population of 389,891 and a total square miles of 581. Waukesha consists of many cities, villages and towns. These include Brookfield, Delafield, Oconomowoc, Pewaukee, Hartland, Menomonee Falls, Mukwanago, Dousman and many more.
While this quiet county in the south east corner of Wisconsin is a great place to live and raise a family, it has high radon levels. Radon is an invisible gas which you can not smell, see or taste. As radioactive materials break down in the ground, radon gas is emitted and rises into living spaces, often accumulating in basements or other rooms of your house or business.
You may not be able to see, smell or taste radon, it certainly isn't harmless. In fact radon is the second leading cause of lung cancer, while smoking is the first. If you smoke and are exposed to high levels of radon the negative health consequences are amplified. As a comparison smoking by itself causes an estimated 160,000 cancer deaths every year in the United States. Among non-smokers radon is responsible for an estimated 21,000 death per year from lung cancer.
You may not have signs of lung cancer right now, that does not mean radon levels are not high in the area you live or in your home. As radon interferes with the function of the lungs, there may be other health warning signs. You lungs are the organ of the body which receives life giving oxygen to the rest of your body. If the ability to receive oxygen into your blood stream is impaired you may have other health consequences you can look for. For example if you are getting
sick more often
get tired easier
don't feel refreshed after a night of sleep
chronically fatigued
wake up feeling sore
more easily irritated
These health problems are not necessarily from high radon levels, they could be and you should get your radon levels tested. However if you live in Waukesha County there is a high probability your home has higher than average radon levels. The national radon level average for indoor living is 1.3pCi/L. The majority of Waukesha Count is above the national average:
34% of homes are under 2 pCi/L
18% of homes are between 2 and 3.9 pCi/L
48% of homes are above 4 pCi/L
pCi/l stands for picocuries per liter. Pico stands for one trillionth. So a picoCurie is 0.000,000,000,001 (one-trillionth) of a Curie. So 1 pCi/l means in one liter of air there will be 2.2 radioactive disintegrations per minute. Or 4 pCi would be 528 disintegrations per hour or 12,672 per day (24 hour period).
Short term exposure to these levels of radon is not harmful, but long term they could lead to health problems and eventually lung cancer.
Why take the risk? It's relatively inexpensive to get your home in Waukesha Count tested and the results are produces in a very short period of time. Put your mind at ease by getting your radon levels tested today. If your radon levels are high one of our experienced technicians can install a radon mitigation system in your home.
Radon Mitigation Systems Lower Radon Levels to Acceptable Levels
Many people throughout Waukesha County have told us there is a noticeable improvement in the air quality in the home after the radon mitigation system is installed. Our radon mitgation systems not only remove radon but they also reduce moisture as well. In some homes these radon removal systems will draw as much as a gallon of moisture from under your house every two hours. This will reduce or even eliminate the rusty smell from underneath your home. You'll find you'll breath a little easier and you dehumidifier won't need to run as much.
Contact our radon removal company to setup a time to test your basement for high gas levels.