Wauwatosa Radon Levels: What Homeowners and Home Buyers Need To Know.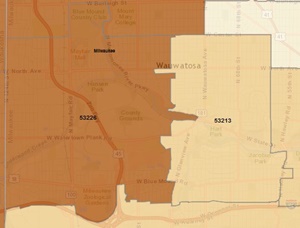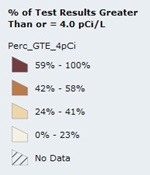 Wauwatosa ("Tosa" as the locals call it) is a city of approximately 47,000 situated just west of Milwaukee along the Menomonee River. Due to its proximity to Milwaukee, many residents commute into the city for work. Although Tosa offers great shopping, restaurants and a thriving business district, it also has some of the highest radon levels in the state of Wisconsin.
The map to the right shows the results of 800+ homes tested for radon levels. 44.7% of these homes tested at or above the 4 pCi/L level—the level at which the EPA recommends taking action. The highest recorded radon level was an alarming 48.6 pCi/L. Clearly, radon levels range from "nothing to be too concerned about" to "OMG! What kind of deathtrap have we bought?"
If you happen to live in the tan-colored area on the map (53213 zip code), you might think you don't have to worry as much as those in the 53226. Unfortunately, radon levels vary greatly--even from house to house. Even though you might think you're in a "safer" area, your home could have radon levels just as high as houses in the 53226 zip code.
Should You Be Concerned About Radon Levels In Your Wauwatosa Home?
Radon is an invisible, radioactive gas produced by the decaying of uranium deposits in the soil. There is no "safe" level of radon. Because it is carcinogenic, the real trouble comes when radon accumulates inside a home. Radon is actually believed to be the second leading of lung cancer—second only to smoking. So, yes, you should be concerned about radon exposure in your home.
There Is Only One Way To Know How Much Radon Is In Your Home
The only way to really know how much radon you're being exposed to in your Wauwatosa home is to have a radon test done. You might be surprised to learn that it's really not a big imposition or a big expense. Here's how Lifetime Radon Solutions does radon testing:
One of our technicians will place an electronic radiation testing device in the lowest level of your home. After 48 hours, we'll come back for the device and provide you a summary of the readings it took over the 48-hour period. If the results how radon levels above 4 pCi/L, we'll explain how we would recommend installing a radon mitigation system and what sort of results you could achieve.
The only thing you will be required to do during the 48-hour testing period is to keep your house as closed up as possible (also for a short time prior to the test). Normal entry and exit will not skew the test results, but you should keep your windows closed and not run any exhaust fans. The goal is to get an idea of how much radon is in the home when the weather doesn't allow regular ventilation of the home.
Many times, homeowners think there's no need to have a radon test done because a neighbor had one and the results showed low levels of radon. Unfortunately, it doesn't work this way. Radon levels can vary dramatically even in houses sitting right next to each other. The only way to really know what you're dealing with is to have a radon test done in your home.
"Should I Request A Radon Test If I'm Planning To Buy A House?"
By all means, yes. With increased awareness of radon, it has virtually become standard practice to include radon testing as a contingency when writing an offer to purchase real estate. And if you're on the other side of the fence and planning to sell a home, it's a good idea to have a test done before you even list your home. Odds are good a potential buyer will want one done. Better to have it done already so you can take corrective action if necessary and avoid snags and delays in the sale of your house.
Are Radon Tests Accurate?
Generally speaking, yes. Radon tests, even the charcoal canister type test devices, will give you an accurate picture of radon levels in a home. The most accurate test is a year-long test using electronic test devices, but this isn't really practical or cost-effective for most homeowners. The next best thing is a 48-hour test using continuous monitoring testing devices.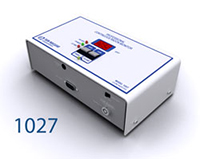 Lifetime Radon Solutions does 48-hour testing using Sun Nuclear continuous monitoring test units. Sun Nuclear is a respected manufacturer of dosimeters—precision devices that measure radiation exposure in patients and medical personal. Not only are their radon testing devices extremely accurate, but they can also detect and record any attempts made to interfere with them during the test period. Basically, there's no way for an unscrupulous person to manipulate the results without this monitor documenting it.
Despite having some of the best testing equipment available, changes in barometric pressure can throw off a radon test. Thunderstorms, heavy rain and snow storms will all skew a radon test higher. Even heavy snow cover on the ground can skew test results. For this reason, we avoid testing if the weather report calls for precipitation.
How Effective is Radon Mitigation?
Short answer: Very! Radon mitigation systems have dramatically reduced radon levels in every single home we've installed them in. It's not unusual to see homes that tested at 10 pCi/L reduced to 2 pCi/L. Yes, it is that effective! Using the opening for your sump pump as the extraction point for radon gases below your basement floor, a radon mitigation extracts the gases through a PVC vent line and exhausts it at your rooftop.