Wisconsin Radon Levels and Real Estate
Milwaukee Radon Testing and Mitigation Specialists on The Increasing Importance of Radon Testing
Whether you are considering the purchase or sale of a house in Wisconsin, you would be well advised to take a look at a map of Wisconsin which shows the average radon levels throughout the state. As you'll quickly discover, the southeast Wisconsin region has some of the highest radon levels in the state—and with it some of the highest rates of radon-caused lung cancer.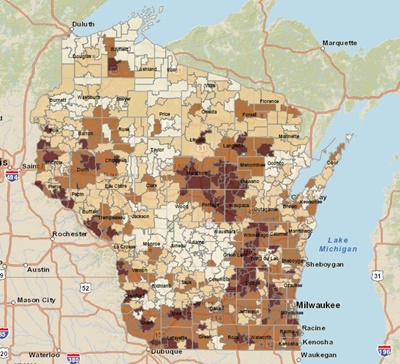 In fact, parts of Waukesha, Washington, Racine and Dodge counties have radon levels well above the national average. In Waukesha, for instance, 47% of homes tested showed radon levels above the EPA's recommended action level of 4 pCi/L (pico curies per liter). As awareness of radon grows, radon testing has become an increasingly requested part of real estate transactions. Not surprisingly, no one wants to buy a home that puts them at increased risk for lung cancer.
Wisconsin law does not require radon testing for home sales, but homebuyers and home sellers alike realize the importance of having a test done. Often, homeowners will go ahead and have a radon test performed before they even list their home. If it comes in high, which by EPA standards is anything above 4 pCi L, they can take action to have a mitigation system installed so there won't be any roadblocks in the sale of the home.
Radon Levels Vary From House To House In Wisconsin—And Across The Country
You might be tempted to look at the map on this page and think that if your home is in an area that shows low radon levels, you're probably safe. Unfortunately, it doesn't work that way. The map shows only average readings. Actual readings can vary greatly from house to house. The only way to know how much radon is in the home you're planning on buying or selling is to have a radon test done.
Radon Testing For Real Estate Transactions In Southeast Wisconsin
Lifetime Radon works with many homeowners, home buyers and real estate agents throughout Wisconsin to coordinate and perform radon testing and radon mitigation. Our testing requires the home be sealed up, except for routine entry and exit, for two days. We utilize sophisticated continuous monitoring electronic testing devices which record radon levels over the course of 48 hours. These devices are placed in the areas where the highest concentration of radon is suspected—the basement, crawlspace or lowest occupied level of a home.
While scientists content it would be more accurate to monitor a home over the course of a year so that all the temperature related fluctuations in radon levels could be accounted for, this simply isn't practical for anyone trying to buy or sell a home. The radon testing we perform is more than accurate enough to detect whether there is a problem with high radon levels in a home or not.
Radon Mitigation For Home Buyers And Home Sellers
Often, if radon testing shows a home to have high radon levels, installation of a radon mitigation system usually becomes a contingency in the offer to purchase. If the home already has a sump pump, the cost to install a radon mitigation system is rarely ever a deal breaker.
Our Milwaukee radon mitigation experts work with homeowners and real estate agents throughout southeast Wisconsin to quickly install mitigation systems that bring radon levels well below the EPA's recommended maximum allowable level. Although no level of radon gas is considered safe, we are usually able to bring radon levels down to where they are at or close to the same level of radon we're exposed to when outdoors.
If you are looking to buy or sell a home in southeastern Wisconsin, Lifetime Radon Solutions can help you ensure the home does not have unhealthy radon levels.
Contact our Milwaukee radon testing and mitigation specialists today to request a test or an estimate on radon mitigation.