Racine Radon Mitigation
Racine Radon Mitigation Systems for Homes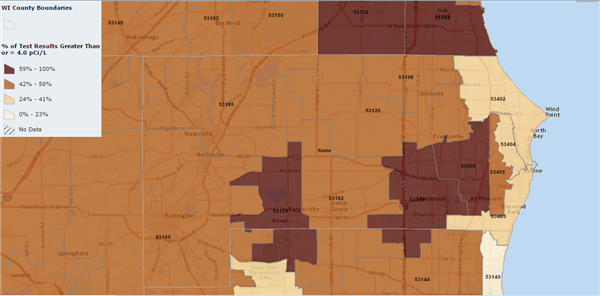 Racine County just south of Milwaukee and just north of Kenosha has areas with high levels of radon. Especially houses in the 53177 and 53406 area codes.
Cities like Sturtevant and Mt Pleasant have large areas where 59% to 100% of homes have radon levels above 4.0 pCi/L. 4.0 pCi/L of radon gas is very dangerous and could potentially lead to lung cancer with long term exposure.
The EPA recommends a radon mitigation system when radon levels in the home are above 0.4 pCi/L. Other areas within Racine county which have radon levels above 4.0 pCi/L are Dover and Kansasville.
Areas like Burlington, Rochester, Waterford, Union Grove, and Franksville have 42% to 58% of homes with indoor radon levels above 4.0 pCi/L. This is a very high percentage of homes so installing a radon mitigation system is something easy homeowners can put in their house to mitigate high levels of radon.
Areas such as Racine (the city), and Elmbrook park have a less amount of homes (24% to 41%) with radon levels above 4.0 pCi/L. This includes zip codes:
While there are less homes with dangerously high radon levels in these areas there still could be up to 41% of homes. It's not something you want to risk. Radon is an invisible gas which you can't smell or detect from any of your senses. The only way to know is by getting a radon test. For non-smokers, radon exposure is the leading cause of lung cancer in the United States according to the US Environmental Protection Agency (EPA). There are more cases of lung cancer each year from radon then even secondhand smoke. With lung cancer you often won't have any symptoms until it's too late. Outdoors radon is not a major threat. But when you are indoors radon builds up to dangerous levels. Installing a radon mitigation system will bring radon levels to safe levels. If you have kids this is especially important as you don't want them to have radon exposure starting at such a young age and throughout all of their childhood. Life-giving oxygen is delivered to the body through the lungs. An impairment of the lungs ability to perform it's function may affect other parts of the body, all of which are dependent on an adequate supply of oxygen.
Contact our Racine radon mitigation company today to setup a time to test your home or get a free estimate for installing a radon removal system.