Retired News Reporter and Non-Smoker Develops Lung Cancer
Retired News Reporter and Non-Smoker Develops Lung Cancer
Greta Kreuz is a veteran news reporter at ABC 7 in Washington DC. She eats well, runs, is not a smoker, and considers herself very healthy. In 2012 she had been diagnosed with lung cancer but it was determined a year later to be a misdiagnosis.
Then just this year she felt a small pulling sensation on her sternum. While it wasn't painful, it was very noticeable. A chest x-ray and a CT scan showed a small tumor on the lower lobe of her left lung.
No one knows what caused her lung cancer but it is known radon and secondhand smoke are the biggest contributors of lung cancer for nonsmokers. American Lung Association senior medical advisor, Dr Albert Rizzo, said lung cancer tumors expand up to a centimeter in diameter. When they are in an area with pain fibers or block blood vessels or airways they can start creating notable symptoms. Lung cancer is very serious as your lungs are the organ which carry life giving oxygen to your body upon which every cell of your body requires. In more advanced cases of lung cancer there is only a 4 to 5 percent chance of living 5 years. If found earlier the survival rate is better but still dismal at 50% survival of living 5 years.
Greta Kreuz is currently recovering from her lung cancer as it was caught very early on. She had a lobectomy and did a news reporting series on her story which won an Emmy Award.
Radon Second Leading Cause of Lung Cancer for Nonsmokers
Radon is the second leading cause of lung cancer for nonsmokers so she should have a radon test done in her home to rule it out as the cause for her lung cancer. If she goes back home and continues to breath in high levels of radon it could lead to a recurrence of her lung cancer.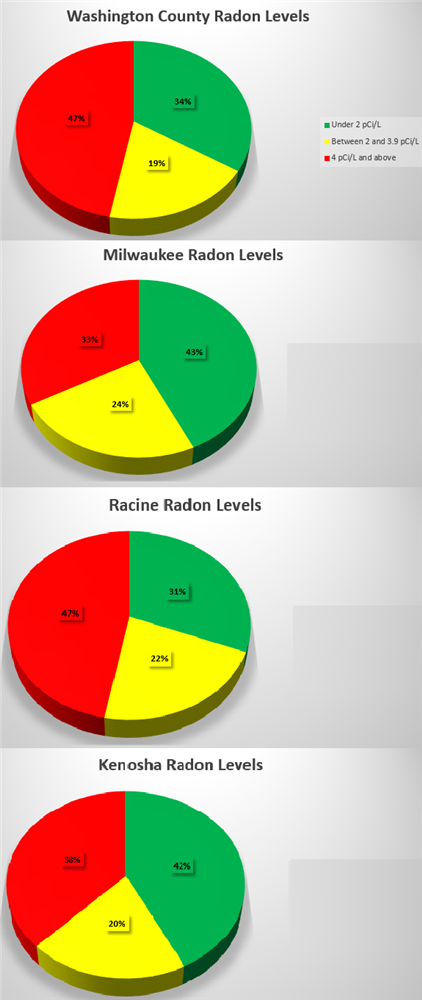 Radon levels in Southeastern Wisconsin are very high in many areas. If your radon levels are over 2.0 pCi/L you should install a radon system.
Washington County Radon Levels

4 pCi/L and Above
47%
Between 2 and 3.9 pCi/L
19%
Under 2 pCi/L
34%

Milwaukee Radon Levels

4 pCi/L and Above
33%
Between 2 and 3.9 pCi/L
24%
Under 2 pCi/L
43%

Racine Radon Levels

4 pCi/L and Above
47%
Between 2 and 3.9 pCi/L
22%
Under 2 pCi/L
31%

Kenosha Radon Levels

4 pCi/L and Above
38%
Between 2 and 3.9 pCi/L
20%
Under 2 pCi/L
42%
As you can see from the chart on the right a large percentage of Washington, Milwaukee, Racine and Kenosha counties have radon levels above 4 pCi/L. The EPA says a radon mitigation system should be installed. However anything above .4 pCi/L you should have a radon system installed.
Our radon systems funnel the majority of the radon from underneath your house out the top of your house. Radon is an invisible gas with no scent or other way of knowing it is present without special testing equipment. Our radon removal company installs the radon testing kits in the proper place in your house and collects results for a couple of days. The results are then analyzed and the radon levels of your home are determined. If your radon levels are high our specialists with consult with you on the best radon removal/mitigation system for your house. Most of the time a radon mitigation system can work with your existing sump pump system.
Contact our radon mitigation company to schedule your test.