Radon Mitigation Installation for New Home Construction
Radon Mitigation Installation For New Home Construction in Germantown Wisconsin
The best time to install a radon mitigation system is when the home is being built. One of the biggest advantages of installing a radon mitigation system during construction is the exhaust venting pipes can be routed inside walls, up through the attic and out an exhaust on the roof without tearing out drywall. In homes that are already built, it would be prohibitively expensive to open up walls to install vent lines in them, which is why radon mitigation systems in existing homes are installed on an outside wall.
What Is Radon And Why Should You Be Concerned?
Radon is an invisible gas which results from the breakdown of uranium deep within the soil. Exposure to high levels of radon over a long period of time is known to cause lung cancer. Long term exposure to radon is the number one cause of lung cancer for non-smokers, which makes it more deadly than second hand smoke. Although no level of radon is "safe," the EPA has advised that homes with more than 4 pCi/L should have a radon mitigation system installed. If you have children, you probably don't want them exposed to second hand smoke. Why run the risk of having them exposed to something even worse? Radon mitigation systems dramatically reduce radon levels, can be easily installed in just a day.
What is Radon Resistant New Construction?
Radon Resistant New Construction, RRNC for short, is often touted by home builders. Essentially, RRNC homes are built with a passive radon mitigation system--meaning they do not have an exhaust fan to move radon gas out through the exhaust lines. While home builders claim passive systems can keep radon levels down, they do not perform as well as systems with an exhaust van. In some cases, the system is installed in a manner that actually increases radon levels in the home.
If you're living in a home with a passive radon mitigation system, we strongly advise having your home tested for radon. The test involves having our technician place an electronic radon measurement device in the basement of your home, where it has to remain undisturbed for 48 hours. You also need to keep your windows closed and not use any exhaust fans. You can enter and exit your home as you normally do. After 48 hours, we retrieve the test devices and analyze the data they collected. We then let you know how your home tested.
If your home tests high for radon, even with your passive radon mitigation system, you can easily add an exhaust fan to it. Our radon mitigation system installers have added exhaust fans to RRNC homes with impressive results. Obviously, the cost of adding an exhaust fan will be considerably less than installing an entire mitigation system from scratch.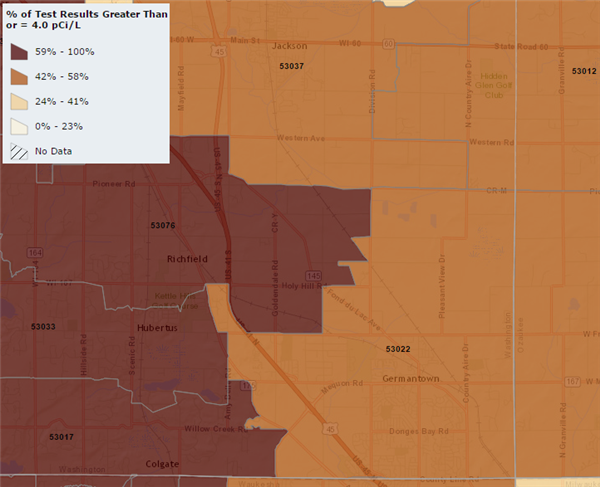 Up to 58% of Homes in Germantown Wisconsin have High Radon levels
In Washington county 47% of homes have radon levels above 4.0 pCi/L. In Germantown itself, the percentage of homes above 4.0 pCi/L is 42% to 58% percent. Areas further west, such as Richfield (Zip Code 53076), Hubertus (Zip Code 53033), and Colgate (Zip Code 53017) have even higher levels.
Mitigation Installation Most Cost Effective in New Home Construction
When you are constructing a new home, it is very easy to install the mitigation system within the structure of the house. Germantown is a desireable place to live within the greater Milwaukee area and new developments are going up all the time. If you are looking to build in this area, it is well worth looking into having a radon mitigation system installed before the house is finished.
Radon Mitigation Systems Reduce Moisture in Basements
Besides reducing radon levels, a radon mitigation system has the added benefit of reducing moisture within your house, especially the basement. A properly installed radon system will remove gallons of moisture from underneath your house every day. Your basement will feel dryer, have a less musty smell, and will be less conducive to the growth of mold.
If you plan on having a finished basement in your new home, it is even more important to have a radon mitigation system installed. Radon gas is most concentrated on the lowest level of a home. Anyone going to the expense of having a basement level rec room or bedroom in their home should consider having a radon mitigation system installed. Even if you're not overly concerned about radon (which you should be), the benefit of a dryer basement alone is well worth considering. The only other way to control moisture levels is to have a dehumidifier running all the time. And anyone who's done that will tell you it is a far from ideal solution.
Contact our Germantown WI radon mitigation company today for information and pricing on radon tests and radon mitigation system installations.