Radon Gas Levels In Milwaukee Homes Pose More Danger Than Carbon Monoxide
By now, virtually every Wisconsin homeowner is well aware of the dangers of carbon monoxide gas. Most homes are equipped with carbon monoxide detectors to ensure this silent killer doesn't strike.
But there's something more deadly than carbon monoxide: Radon gas.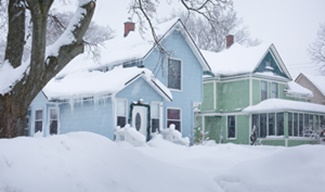 Like carbon monoxide, radon cannot be smelled, seen or tasted. It produces minute radioactive particles which embed themselves in lung tissue. Long-term exposure has been shown to cause lung cancer—approximately 20,000 cases every year in the US alone.
And yet, while many homeowners have carbon monoxide detectors installed in their homes, they haven't bothered to have a radon test done.
Radon Testing Is The Only Way To Gauge Your Risk
One thing you should know: There is no safe level of radon. The EPA says 4 p Ci/L (picocuries per liter) is the level at which a homeowner should take action to lessen the amount of radon in a home, but even in smaller concentrations it is still a radioactive gas. With prolonged exposure, radon can and does cause lung cancer.
Upsetting as it may be to hear, between 5 and 10 percent of homes in Wisconsin have radon levels above the 4 pCi/L level. In Milwaukee County, for instance, 33" of homes tested have radon levels at or above 4 pCi/L. Nearby Ozaukee County, 40% of homes are above 4 pCi/L, and in Washington and Waukesha County, 47% of homes tested at 4 pCi/L.
This is all the more disturbing when you consider that nuclear plant workers have a lower exposure to radiation than many Wisconsin homeowners do.
Even if your next door neighbor had a radon test done, you can't assume your home has the same radon levels. Tests have shown wildly different radon levels even in homes situated right next to each other.
Milwaukee Radon Testing and Mitigation Specialists For All Of Southeast Wisconsin
Lifetime Radon Solutions performs radon tests and radon mitigation on homes from Madison to Milwaukee, and from the southern border with Illinois to Portage in the northwest and Oostburg in the northeast.
Using sophisticated, continuous monitoring equipment which collects readings in your home over a two day period, we provide fast and accurate results. Once you know what you're living with in your home, we can help you determine if it makes sense to have a radon venting system installed.