Kenosha Radon Testing
Nearly Half Of Kenosha Homes Have Unsafe Radon Levels
We hate to be the bearer of bad news, but based on the data collected on radon testing in Kenosha and Walworth counties, homes and businesses in these areas have radon levels averaging 4.5 pCi/L (picocuries per liter). The EPA has defined 4 pCi/L as the level at which radon mitigation should be done.
If you're thinking, "Well, .5 pCi/L above the EPA's recommended maximum level isn't so bad," think again. In reality, there is no "safe" level of radon. It is, after all, a radioactive gas and is the second leading cause of lung cancer.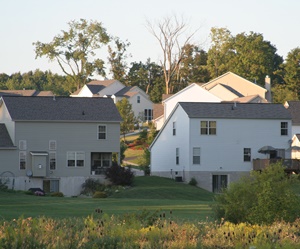 To give you some perspective on radon levels, the national average for indoor radon levels is 1.3 pCi/L. The air outside typically averages about .4 pCi/L. Unfortunately, you can't just open all your windows and let the radon out. And even if you could, it wouldn't work too well during a Wisconsin winter.
Just Because The Neighbor's House Tested Low For Radon Doesn't Mean Yours Doesn't Need To Be Tested
Radon levels are, literally, all over the map. Even in the same neighborhood, the amount of radon in homes can vary significantly. In fact, even houses sitting just 15 feet from one another can have drastically different radon levels. This only underscores the importance of having your home tested so you know for sure.
Radon Mitigation Systems Help Kenosha Homeowners Breathe A Little Easier
Radon mitigation systems can dramatically lower the radon levels in any home. We've seen homes that tested at 6 pCi/L come in at 2 pCi/L after mitigation. In virtually all cases, the reduction in radon levels is well below 4 pCi/L.
Most radon mitigation systems we install connect into the ground through your sump pump and vent through PVC pipes to the roof line of your house, where the radon gas is dispersed into the atmosphere. We can also vent air from crawlspaces and other locations in your home which may have high levels of radon gas. In some cases, the piping has a small, electrically powered fan placed in it to ensure the radon gas is fully expelled. The impact this has on your utility bill is marginal--typically, $25 to $45 per year.
Radon Testing for Homebuyers and Home Sellers
It has become increasingly common for home buyers to ask for radon tests as a contingency in their offer to purchase. If you are looking to buy a home in the Kenosha area, you surely want to know how much radon is in the home. Lifetime Radon works with many realtors in the Kenosha area to perform pre-purchase radon testing and, if necessary, radon mitigation.
For those looking to sell a home, it's a good idea to just go ahead and have a radon test done before you even put your home on the market. It's pretty safe to assume potential buyers will want to to see the results of a recent radon test, and if you have one done before your house even goes on the market you can take corrective action ahead of time and get the most money possible for your home.
Whether you're buying, selling or just sitting tight for now, if you haven't had your Kenosha area home tested for radon, by all means get it done!